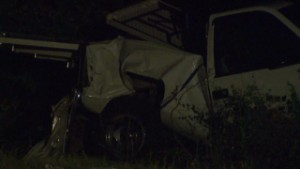 DUI crash kills 4, teen gets probation
To the families of the victims, Ethan Couch was a killer on the road, a drunken teenage driver who caused a crash that left four people dead.
To the defense, the youth is himself a victim -- of "affluenza," according to one psychologist -- the product of wealthy, privileged parents who never set limits for the boy.
To a judge, who sentenced Couch to 10 years' probation but no jail time, he's a defendant in need of treatment.
The decision disappointed prosecutors and stunned victims' family members, who say they feel that Couch got off too easy. Prosecutors had asked for the maximum of 20 years behind bars.
"Let's face it. ... There needs to be some justice here," Eric Boyles, who lost his wife and daughter, told CNN's "Anderson Cooper 360" on Wednesday night.
"For 25 weeks, I've been going through a healing process. And so when the verdict came out, I mean, my immediate reaction is -- I'm back to week 1. We have accomplished nothing here. My healing process is out the window," he said.
Lawyers for Couch, 16, had argued that the teen's parents should share part of the blame for the crash because they never set limits for the boy and gave him everything he wanted. CNN